Self-Sufficiency, Sustainability, and You:
20+ Eco-Friendly Retailers That Help You Live Greener
Living an Earth-friendly lifestyle is a fantastic idea in theory, but adopting one is far from a cakewalk in practice. Even for green living experts, it's tough to know where to start and who to turn to for local and eco-friendly products. In today's flooded market, some products aren't actually as "green" as they'd have you believe, and finding affordable USA-made alternatives can be even tougher, especially when shopping online. In person, we have the opposite problem: specialty bulk stores, which cut down on single-use packaging, are often found only in large cities, where many homesteaders do not live.
While Little Onion Farm's self-sufficient journey is still beginning, we're working on changing just a little at a time. To that end, here's a list of eco-friendly retailers and sustainable products (in no particular order) that anyone can use to jump-start their green journey. Of course, this list of tips and tricks tends to be a little skewed towards self-sufficient and locally-made, the tenets of Earth-friendly living that we most deeply believe in. If you agree, you'll find that this list has a lot of things you'll like, too.
This post isn't a tell-all on how to be self-sufficient – rather, it's a list of places that sell products that help. No single item can turn you self-sufficient or 100% sustainable overnight. A journey like this involves a lot of lifestyle changes, product research, and most of all, effort. It's not easy by any means, but the vendors here can certainly help make it easier.
Before we begin, here's an explanation of our selection criteria:
1: Green retailers create their products using environmentally-friendly practices. Many green products are plastic-free and/or reusable. Some green retailers offset their carbon emissions or partner with environmental causes.

2: Retailers that promote self-sufficiency sell products that help boost the buyer's ability to live remotely and independently. Self-sufficiency is characterized by a lack of reliance on "the system." Many strive for self-sufficiency to prepare for large-scale disasters or supply chain issues, to save money, or to return to a more traditional lifestyle.

3: Local businesses manufacture their goods here in the USA. USA-based manufacturing helps to limit shipping emissions and single-use packaging materials, and it keeps important industries close to home.

4: Small businesses often sell handcrafted products or manufacture their goods on a smaller scale. Shopping at small businesses, regardless of whether they're local or not, helps keep mega-corporations in check and gives power back to the individual.
We update this post regularly as we discover more places to shop. Don't be afraid to bookmark this page and come back later to see what's changed!
---
General Merchandise
If you're looking for an easy one-stop shop, you've come to the right place. The marketplaces in this section may or may not specialize in green living, but they will always offer a good selection of products that do. You'll also find vendors section that didn't really fit into any of the other categories on the list.
---
EarthHero is our favorite one-stop-shop for everything green, locally-made, and sustainable. They carry all sorts of Earth-friendly home goods, including eco-friendly laundry detergent, chemical-free dishwasher tablets, reusable swabs and "paper" towels, zero waste deodorant, and much more. However, the eco-friendly products they sell go way beyond just home goods. You can also find tech gadgets, pet products, cosmetics, kids' toys, reusable travel goods, and even eco-friendly gifts on EarthHero.
EarthHero's shtick is that they do all of the work of finding and selecting the best products for you. They use a 5-step vetting process to weed out the good companies from the bad, which you can read more about here. Plus, you can sort their website by brand, category, and even values (including our favorite modifier: products made in the USA). You can also sort by organically-made, upcycled, zero waste, sustainably harvested, and more.
EarthHero partners with thoughtful and active charities around the world, like the Eden Reforestation Projects, so you can feel confident that the money you spend goes further than just the products you buy. Plus, they regularly offer good sale incentives on their site. It's not quite as feel-good as buying directly from a small retailer, but it's certainly better than sending your hard-earned money to mega-retailers that don't prioritize sustainability as EarthHero does.
---
Etsy
We appreciate sites like Etsy for supporting small business owners and their creations. While lots of other sites will let you list your homemade products for sale, Etsy has a small-business feel that the others don't.
Etsy does a lot to help build your brand and your storefront into something marketable and tangible. While we always support buying directly from sellers' websites when possible to eliminate the middleman, an intermediary like Etsy can be crucial when setting up your small business and building a consumer audience. We even have our own Etsy shop, and if you'd like to patronize us here at Little Onion Farm, you can do so below.
Etsy is unlike EarthHero in that it does not limit itself to eco-friendly products alone. That being said, many of their handmade items are created sustainably or with green materials, and you'll likely be supporting small businesses (many of which are based in the USA) in the process.
---
Secondhand Shopping
There's nothing quite like finding something totally unique at a thrift store that you can take home and give a second life to. Shopping for used items is generally less expensive than purchasing new, and you're saving these things from ending up in the trash, too.
While most of the products that secondhand stores sell aren't necessarily created using green practices, they're still the more sustainable choice. After all, the products have already been created – there's no taking that back – but reusing an existing item means you're stopping a new one from being made (at least in theory).
We don't discriminate when it comes to secondhand retailers. After all, no matter who you buy from – be it Goodwill, The Salvation Army, a garage sale, or an online seller – you're still doing the environment a favor. Some people have strong opinions about certain retailers, and if you do, that's totally fine!
The way we see it, though, if we get something for a decent price and keep it out of a landfill, we're still being sustainable and doing something good for our environment. Plus, the thrill of spotting a good deal at the local secondhand store and saving a bunch of money is arguably one of the best feelings ever.
---
Plastic containers give us mixed feelings these days. On one hand, a reusable plastic container does cut down on waste. There's a million ways to reuse rigid plastic, even if you don't use it for food storage. However, plastic-free reusable containers (such as glass, paper, or silicone) are more popular, both for environmental and aesthetic reasons.
With concerns about environmental microplastics growing by the year, we have more reasons than ever to avoid plastic, especially near our food. However, If you buy something in a plastic bottle and dump it into a glass one, you're not doing the environment any favors – that plastic bottle was still made and will still probably end up in a landfill somewhere.
Many retailers are starting to come around and offer plastic-free, eco-friendly products, but we think Zero Waste Store is one of the best. ZWS specializes in home and beauty products that benefit both you and the environment. While they mostly carry consumables like eco-friendly cleaning products, laundry detergent sheets, shampoo and conditioner bars, dish soap bars, and other plastic-free merchandise, they also sell composting units, worm farms, pencils, reusable gift wrap, and much more.
Recently, Zero Waste Store expanded their site! In addition to the products mentioned above, they also sell zero-waste pet products, recycled tech products, glass soap dispensers, organic cotton bedding and towels, skin care products, reusable silicone bags, and much more.
Zero Waste Store is picky about the products they endorse, and they're part of 1% For the Planet, too. Plus, they offset their carbon shipping emissions and ship with eco-friendly packaging (plastic free) – it really feels like they've covered all of their bases. After you take a look around their site, don't forget to sign up for their email list to get a cool 15% off your next order.
---
While Etsy tends to dominate the handmade gifting scene, we really like Modern Artisans for its sustainable focus and its die-hard support of American crafters. Modern Artisans has been around for nearly 20 years, and they're committed to serving USA artists in a way that many other retailers are not.
Not all of their products are 100% green, but they do have a section of their website devoted to sustainable gifts, such as recycled metal sculptures, reclaimed glass pieces, upcycled leather, and more. Since they source their items directly from American artisans, their supply is limited. This opens the door to deep discounts on closeout products, but it also means that a product you bought one month might not be in stock the next. We've taken the liberty of showing off a few of our favorite products below (but keep in mind they may not all be available, depending on when you read this post).
Some of the products that stand out to us most are their creative and functional stonewares, metal sculptures, upcycled signs, and handmade jewelry. Be sure to check back often, as their inventory is constantly changing!
---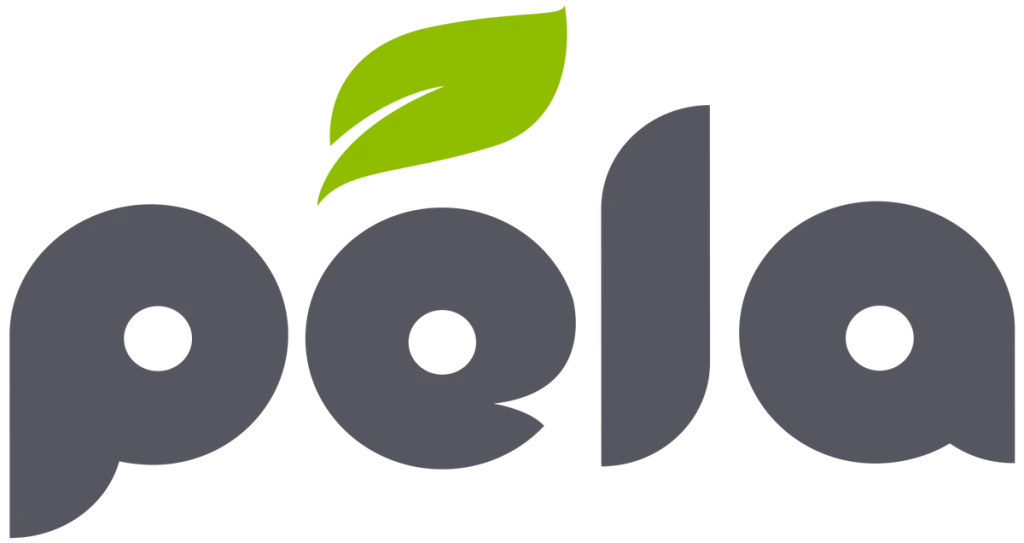 Pela's compostable line of phone cases serves many of today's major smartphone manufacturers, and they come in tons of attractive styles and colors. They also offer protection for your other favorite everyday items, too – specifically, smartwatch bands, credit card holders, AirPod cases, sunglasses, and a few others.
Recently, Pela's sister company, Pela Earth, took a new angle on the "compostable" concept and created the Lomi. Lomi is a countertop "composter" that turns food waste into a usable soil additive in just hours. In reality, it's not actually a composter, but rather an appliance that dehydrates, cooks, and shreds food waste into small particles that break down more easily.
No matter what you shop at Pela for, you won't be disappointed. As a company, Pela keeps things completely carbon neutral, and their products require significantly fewer resources to manufacture than similar plastic cases. Plus, many of the resources they do use – which, for their cases, includes flax and plant-based polymers – are renewable.
Pela products are manufactured in either Canada or China. Pela does offset its carbon footprint to make up for any emissions released during their manufacturing and shipping process. We're huge proponents of the ingenuity that the creators of Pela have shown in creating new, sustainable materials.
---
Looking to take steps towards a greener lifestyle, but don't know where to begin? Do you see how expensive eco-friendly products can be and get nervous?
If green living feels intimidating to you, start your search with MightyNest. MightyNest specializes in curated sustainable products that they send right to your door on a monthly rotation. You can let MightyNest do all the work of selecting products for you, or you can browse their website and add any products that you'd like to your monthly box.
MightNest also uses a rating system that helps you see the eco-friendliness of each product at a glance. Every eco-friendly product, regardless of rating, has to meet a minimum standard set by MightyNest. From there, each receives a rating of one to three "leaves" – one meaning good, two meaning better, and three meaning best – to denote how far above and beyond those minimum standards the product goes. MightyNest rates on both ingredients and packaging, so each item has two ratings.
You can shop at MightyNest without a monthly membership, though subscribers get free shipping and a flat 35% off MightyNest's products (minus a handful of excluded brands). All of the products curated by MightyNest come from ecologically responsible companies, and they have an extremely wide product lineup covering everything from toilet paper to pet products.
---
Looking to step up your shopping game with ethical, environmentally-friendly options? DoneGood provides an excellent place to start. Like EarthHero, DoneGood is a multi-brand marketplace, and they source their products only from businesses and individuals who pass their vetting standards. They make shopping for a new eco-friendly closet easy by sending you directly to the greenest brands.
Aside from clothes, DoneGood sells eco-friendly mattresses, rugs, jewelry, skincare, kitchenware, cleaning supplies, and much more. They also have a fantastic sale section where you can snag the best deals on sustainable products.
Compared to the other merchants on this list, DoneGood puts an extra focus on fair trade and ethical business practices, beyond those strictly considered green and sustainable. In addition to USA made, recycled/recyclable, and eco-friendly products, they also look for vegan, cruelty-free, and other criteria. If those values speak to you, you can rest assured that you're shopping in the right place with DoneGood.
---
Garden and Outdoor
You don't need to keep a big farm or garden to live a fruitful, self-sufficient life. At Little Onion Farm, we just think it's more rewarding to produce our own food. We get to know where it comes from, what chemicals and nutrients went into its growth, and the ethics used for its production. Plus, we get closer with nature at the same time, all while promoting healthy permaculture and keeping chemicals out of the Earth.
Some people just aren't interested in producing their own food. It's a lot of work (and sometimes money) to get started, and it creates a new responsibility for you to manage. Plus, there's a learning curve to it; if you've tried and failed before, you may feel reluctant to put effort into it again.
Even if all you have is a sunny balcony, you can produce some or all of your own food. Something as simple as a small garden tower – which takes up just a few square feet of floor space – can, with some creativity, grow a surprisingly large bounty. More communities than ever have community gardens that you can reserve plots in. Plus, many people forget that it's possible to forage or hunt for the food you can't grow yourself.
A balcony garden, a community plot, or a small flock of laying hens is more than enough to start a self-sufficient journey. It might not feel like it, but we promise it's worth the effort – and the sustainable products in this section can make that effort significantly easier. Whether you're looking to become more self-sufficient across the board or create an eco-friendly homestead from the ground up, you'll find the information here useful.
---

If you want to start growing your own food, especially in a small space, consider the humble Garden Tower. The Garden Tower 2, Garden Tower Project's premiere product, holds 50 different plants (up to 70 with extensions), waters them, and creates vigor-boosting compost all at the same time. While the tower is a little pricey, it's an exceptional system that creates a full garden cycle within a single, self-contained unit (if you choose to use it that way).
The Garden Tower is designed to grow plants and create compost at the same time, but you don't have to do the compost part if you don't want to. Ideally, you'd put food scraps and other bits in the central column, where they break down over time. If you keep your garden tower indoors, you might find the composting part to be objectionable; fortunately, the tower works fantastically either way.
The Garden Tower uses a central pillar of worms and compost that drains into a "tea" tray at the bottom of the unit. The worms living in the unit can move freely between the central compost pillar and your plants, naturally fertilizing the entire structure and breaking down the food waste inside. The nutrient tea that filters through the unit can be used in other areas of your garden or poured back through the Garden Tower to redeposit important nutrients.
Science aside, the Garden Tower is 100% USA made with food-grade, FDA-approved plastics and dyes, and once the product has lived its life, it's completely recyclable. So while, yes, it is made of plastic, it's done eco-consciously. It comes with a five-year warranty, but the folks at Garden Tower Project say that they expect it to last a minimum of seven years, and potentially many more beyond that depending on your climate. If you use the Garden Tower 2.0 for indoor growing, it should last even longer.
Since the tower only takes up four square feet of floor space, it works on almost any balcony or porch, or possibly even next to a very sunny window. Plus, Garden Tower Project sells optional accessories to customize your tower as needed, such as a rolling base or additional tiers. The entire tower rotates effortlessly on ball bearings, allowing you to expose different plants to sunlight.
The only real downside of the Garden Tower 2.0 is its price. It's undeniably a lot to pay for a tower garden, especially when you can get any old garden tower for a fraction of the price on Amazon or eBay. The Garden Tower 2.0 isn't just any old garden tower, though – it's USA-made, recyclable, safe, and an incredibly useful product, even if you have to save up for it for a bit longer. Plus, you can sign up to receive e-mail and text message offers from Garden Tower Project and receive a cool $35 coupon. (Do it – they sometimes offer product giveaways and raffles, and you might even get lucky enough to win one for free!)
Visit the Garden Tower Project's Photo Gallery or Video Gallery to see more pictures of the Garden Tower 2.0 in action!
---

If you're a fan of the idea of tower gardening, but can't justify the price of the Garden Tower, we recommend taking a look at what GreenStalk has to offer. The GreenStalk garden works a little differently than the Garden tower: it doesn't have a central composting column, and partly because of that, it's a lot cheaper. It also holds fewer plants than the garden tower (30+ to the Garden Tower's 50+), but since the GreenStalk is so much cheaper, you have the option of buying more towers to make up the difference.
The GreenStalk tower does have a proprietary watering system similar to the Garden Tower 2's. While it can't be used for composting, it's great for keeping your plants evenly hydrated with minimal work. You can even connect it to an automatic watering system to make garden upkeep truly effortless.
We really like that the GreenStalk garden comes in multiple attractive colors. Evergreen is our favorite, but you can also get it in Stunning Stone or Glacier Blue. Each tower comes in 5-tier and 7-tier configurations.
GreenStalk is a small family business based in eastern Tennesse. Their products are designed and created in the USA. Each tower has a 5-year warranty and is made with #5 polypropylene plastic – free of BPA, BPS, and PVC. GreenStalk also sells floating plant supports for vining plants and rolling bases to make movement easy. You can buy GreenStalk's products on Amazon or on the GreenStalk website.
---
If you've found your way to our website, you've probably already realized that we love backyard chickens. Backyard chicken keeping has exploded in popularity over the last few years, and chickens provide a steady source of food, fertilizer, and just plain fun. When raised right, they can be great around children, they're a hoot to watch running around the yard, and they come in hundreds of stunning colors. They're also the "gateway drug" to self-sufficiency (they were for us, at least).
The main downside of backyard chicken keeping is that it isn't as affordable as many people think – at least, with a decent-sized flock. For most chicken owners, the costs of chicken food and bedding add up over time. You also have to consider other costs, such as medicine when your birds need it, purchasing new chickens when the worst happens, and the price of a secure chicken coop. There are plenty of things you can do to reduce this cost, such as building your own coop, but you end up sacrificing time for money.
Unless you plan to go full bore and make chicken keeping your full-time business, you shouldn't expect to profit off of them – and that's the way it should be! For most people, backyard chickens are pets, and the fertilizer, eggs, meat, and entertainment are simply bonuses.
If you're one of those people who doesn't want to make chicken keeping your entire life, but still wants to be eco-conscious, take a look through Omlet's products. Omlet is a small business based in the UK with customers worldwide. Their line of secure, easy-to-assemble chicken coops are what we consider the "gold standard" of backyard coops – they're easy to clean, easy on the eyes, virtually predator-proof, perfectly sized, and extremely long-lasting. (They also offer care products for your other pets, too, such as dog and cat beds, small animal and bird cages, and more.)
Omlet offers three main chicken coops: the Eglu Go (for 2-4 chickens*), the Eglu Go UP (2-5 chickens*), and the Eglu Cube (6-10 chickens*). Each product is customizable to your exact needs, with several available run sizes, colors, and optional accessories (such as wheels, handles, extra-large runs, and auto-doors). All of their coops are made with UV-stabilized, 100%-recyclable plastics for the main housing and heavy-duty steel wire for the run. (*Note that the flock size recommendations above come directly from Omlet, but we've found that they're very forgiving, depending on the sizes and temperaments of your chickens.)
Update: Little Onion Farm now owns its own Eglu Cube, and we love it! Ours came used from a neighbor, and even though it's already a few years old, the quality and strength of the product are still apparent. It's super easy to clean, and the chickens absolutely love moving to fresh grass every few days.
While Omlet's products are manufactured overseas, they are still a small business, albeit not USA-based. Plus, Omlet's chicken coops are fully-recyclable products – the plastic can be processed at any plastic recycling center, and the steel wire can be melted down and reused.
At Little Onion Farm, we're big fans of USA-made Amish chicken coops as a locally-made alternative, but they tend to cost thousands of dollars and house way more chickens than the average backyard chicken keeper needs. That being said, if you'd prefer a USA-based business and like the look of Amish chicken coops, check out the section below!
---
If you'd like to support a local business and don't mind spending a bit more on your chicken coop, check out the coops that OverEZ builds. OverEZ headquarters in Pennsylvania and Georgia, and their Amish-style coops are pretty much the best partially-assembled coops you can get. These are real, honest-to-God wooden coops, and not the flimsy ones you'd buy at your local big-box farm store, either.
While OverEZ's chicken coops aren't exactly cheap (their coops start at $1,000+), you might notice that they're a bit cheaper than similar Amish coops on the market. That's because OverEZ's coops come partially finished and flat-packed for easy shipping (shipping is free, too). You'll need to do some assembly when receiving the coop, but for most models, this just involves placing the walls and screwing them in place. OverEZ sells five different sizes of chicken coops: Small (up to 5 chickens), Medium (10), Large, (15), XL (20), and Jumbo (30). They also sell the Coop-In-A-Box, which is just their Small coop with an added mini-run.
We've seen some complaints that their smallest coop seems a little too small for five chickens if you don't add a large enough run. However, this isn't necessarily OverEZ's fault, but more a flaw with shed-style chicken coops in general.
An appropriately-sized run is an essential addition to any chicken coop, including OverEZ's. Alternatively, you could free-range your birds every day, eliminating the need for a run. We do not recommend keeping chickens in any of these coops without outdoor access. We also don't recommend using the run that comes with the Coop-In-A-Box, as it's too small for anything but two or three full-sized chickens (or possibly a small flock of quail). Better to buy it without the run and add your own, or buy one of their larger runs separately.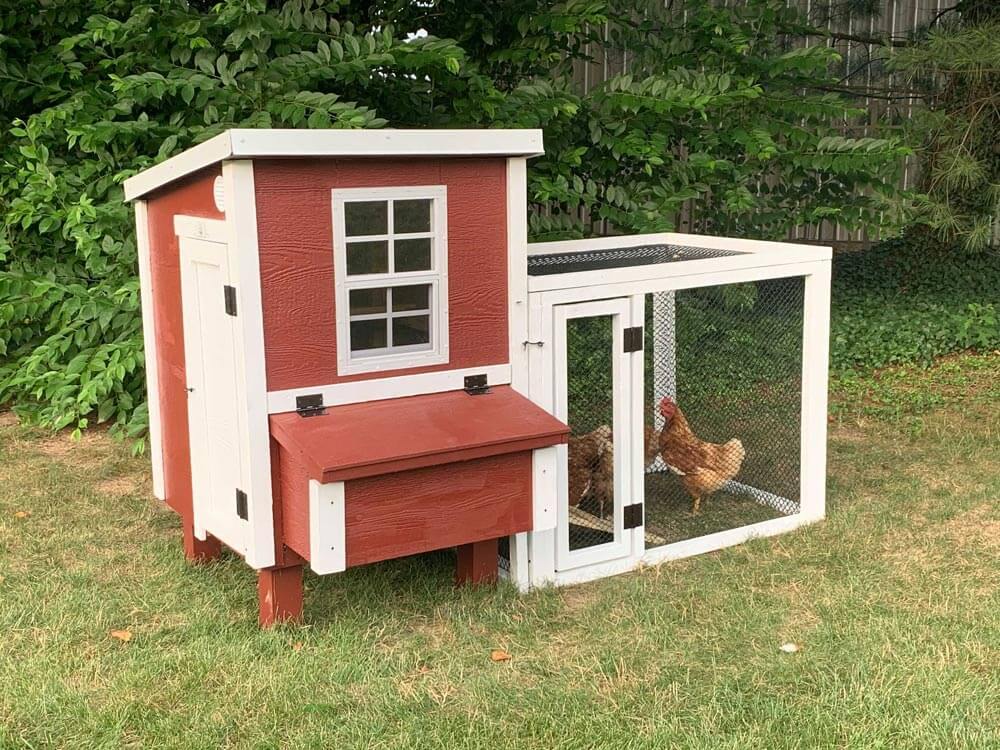 Update: most of OverEZ's coops are now available in multiple colors! At the time of this update, some are now available in Classic (red), Coastal (blue), and Farmhouse (white). They've also added a walk-in chicken coop to their lineup, which holds up to 18 chickens.
OverEZ also carries lots of other chicken care products in their store, such as runs, feeders, waterers, auto doors, sheds, and more, so you can do all your shopping in one place if you so choose. Plus, you can purchase their products either on Amazon or on OverEZ's website. While Little Onion Farm prefers tractor-style coops to the shed-style coops that OverEZ specializes in, we would happily support this business any day if we ever had need for a shed-style coop.
OverEZ does offer financing through Affirm to make the cost of their new coops a bit more manageable. If you have any problems with shipping or assembly, OverEZ's excellent customer service will happily help resolve your issue.
---
Perennial gardening has many benefits, not the least of which is supporting your local wildlife. The young plants you establish will eventually provide breeding and living environments for bees, butterflies, birds, and many other species. Eco-friendly native perennials don't just help preserve our most beloved animals, such as Monarch butterflies (which are now considered endangered), they help reduce invasive and harmful species, too.
Nature Hills Nursery is a great place to start looking for native plant species, but they have plenty of exotic non-native plants for you to try, too. As one of the largest online plant nurseries, they have tons of options for you to choose from. They were instrumental in the creation of Little Onion Farm's plant addiction, and they might just do the same for you!
If you'd like to get started planting native, Nature Hills Nursery provides a whole section of their site dedicated to it – specifically, to trees and bushes that help support our native bird species. They also make it easy to choose which perennial plants do best in your area by narrowing results by state.
Don't forget that Nature Hills Nursery is a great resource for plant care products, too. While we prefer to garden organically at Little Onion Farm, we have nothing against those who don't, and Nature Hills Nursery carries a wide variety of pest control products (both organic and non-organic). Some of the products they sell are:
Beetle bags
Liquid fence
Copper fungicide
Dormant oil spray
Weed killer
Sevin products
Milky spore
---
Sometimes it's a relief to invest in a product that does the hard work for you. Hamama is a company specializing in countertop microgreens, which you can grow without any garden space at all. While Little Onion Farm loves outdoor gardening, Hamama's business model is so convenient and effective that we still keep their greens growing on the counter anyway, month after month. Yes, it would be cheaper to set up our own microgreen trays, but sometimes the value of taking just a single chore off your plate exceeds the monetary sacrifice – and that's how we feel about Hamama, at least for now.
Hamama's whole business model involves mail-order microgreen seed "quilts" that are extremely easy to grow – just place a quilt in the Hamama tray, fill it with water, and let it sit for a week or so. Soon, you'll have delicious microgreens to eat on sandwiches, pastas, soups, and whatever else you can imagine.
We love microgreens as an alternative to lettuce – they have more texture and much more flavor. Hamama sells several different microgreen varieties that range from sweet to spicy to savory, and they bring new seed "quilts" to their lineup regularly. At the time of writing this post, they offer the following quilts (those marked with * are organic):
Hearty Broccoli*
Refreshing Cabbage*
Energizing Kale*
Spicy Daikon Radish*
Super Salad Mix*
Zesty Mix*
Sweet Wheatgrass*
Earthy Clover*
Fragrant Fenugreek*
Hot Wasabi Mustard*
Culinary Cilantro
As a member of their email list, Little Onion Farm also gets special offers for some of their "secret" varieties, including celery, cat grass, basil, and more. If you're interested in what Hamama has to offer, we highly recommend that you sign up as well! They also sell special accessories to help you grow green onions and garlic on your countertop.
You're paying for convenience with Hamama, and while their products are modestly priced, they're undeniably more costly than manually growing microgreens. Instead of having to set up your own station with trays, soil, grow lights, shelves, and seeds, that entire process gets handled for you. Plus, you pay a little more for Hamama's eco-friendly products: the seed quilts themselves are fully compostable, and you have the option of purchasing an earth-conscious ceramic grow tray, with or without a sustainable bamboo frame.
While we're not huge fans of Hamama's plastic trays, they are food safe and BPA-free, and their seed quilts are sourced and made here in America. While their grow trays are unfortunately made overseas, the trays themselves are a one-time purchase, and you have the option of using your own tray instead of purchasing theirs, too. We really like their ceramic grow trays, and we hope they'll bring the option to go ceramic to more of their product lineup eventually.
Hamama professes to using recyclable or post-recycled materials in their shipping and manufacturing. They've phased out their usage of single-use plastics in their sustainable packaging as well. While they don't say one way or the other on their website whether their plastic grow trays are recyclable, at least they're not single-use. Plus, you have the option to offset your carbon emissions when you check out – it would be nice if this was done for free, but at least you as the consumer have the opportunity to contribute.
---
Hamama and other ready-grow services are fantastic if you're looking to dip just your toes into growing your own food. But what do you do when you're ready to take that next big step? Low-fuss, idiot-proof microgreens trays are incredibly convenient – and, to be honest, we're not going to stop growing Hamama microgreens anytime soon. They're just too easy.
If you want to take your gardening skills beyond what Hamama can offer, though, take a look at Bootstrap Farmer's line of farming products. Bar none, Bootstrap Farmer is one of our favorite gardening companies – you'll see why below.
Firstly, Bootstrap Farmer offers gardening supplies made right here in the USA. Not everything they sell on their site is made here, but the company maintains an ever-expanding list of USA-made products that you can buy. Right now, their USA-made list mostly includes grow trays and greenhouse kits.
We also like that Bootstrap Farmer sells their products both on Amazon and on their own website. A lot of people need the convenience and low shipping costs that Amazon offers. Bootstrap Farmer very conscientiously offers you the opportunity to do either (or both), depending on which suits you best.
While Bootstrap Farmer's famous grow trays are indeed made of plastic, they're a far cry from the flimsy single-use grow trays you typically buy at big box stores – and as a result, they're a significantly more sustainable option. They're thick, sturdy, and meant to last for years rather than just one growing season. Case in point: they come with a two-year warranty against defects and cracks. Plus, they come in colors! (Bootstrap Farmer's growing trays are made with BPA-free #5 plastic, meaning they're food-safe and fully recyclable.)
Finally, Bootstrap Farmer offers a wealth of gardening information, greenhouse tips, and growing guides for free on their website. Plus, you can tune unto the Boostrap Farmer Podcast or Youtube Channel for even more growing information.
---
Are you looking to get really serious with your food garden? If so, Hoss Tools is the place to go next. Hoss is a large-scale gardening supplier, and they have pretty much everything you need for a successful operation, whether that's a small homestead or a sizeable farm.
We like Hoss Tools for several reasons, even though they don't employ the same eco-friendly strategies that many of the other vendors on this list use. They're a USA-based, family-owned business, and several of their products are made here. Plus, all of their seeds are non-GMO certified, and everything comes with a 100% satisfaction guarantee. To top it all off, all orders over $99 ship free to any of the lower 48.
Finally, Hoss Tools maintains a huge knowledge bank of growing guides, gardening videos, garden planning resources, blog posts, and free downloads. Plus, Hoss Tools is in charge of the Row By Row Gardening Community, a group of 20k+ worldwide gardeners that comes together to share their knowledge and experiences. At the time of this writing, Row By Row has a weekly YouTube show every Thursday at 8 PM EST.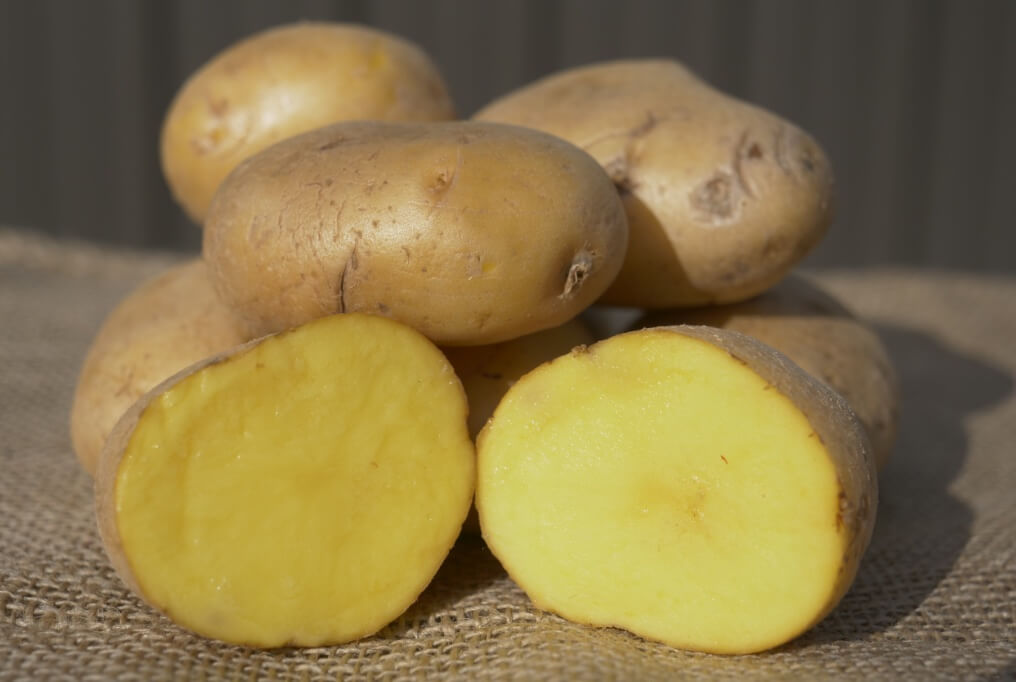 Hoss Tools maintains a huge lineup of fantastic fruit and vegetable varieties, and we've had tremendous success growing their seeds.
It doesn't get much more green than growing your own food, and Hoss Tools' byline is literally "We Help You Grow Your Own Food." Simple as that.
---
True Leaf Market is one of the first places we go to buy rare seeds. We discovered True Leaf Market during our search for microgreens, but stayed with them because of their huge catalog of affordable non-GMO seeds of all types. While their seeds can vary in price, many of their common garden vegetable seeds start at just $2.49, and they carry many fantastic and rare varieties.
True Leaf Market has been a thriving USA-based business for over fifty years now, and they're USDA Organic and non-GMO certified. True Leaf Market carries just about every growing kit under the sun to help you get started, and not to mention, they have just about every microgreen-compatible seed variety for sale, too. They also carriy a lot of sprouting seed varieties and kits, if you prefer sprouts to microgreens.
---

If you're interested in learning more about sustainable farming – and possibly getting into growing your own vegetables, flowers, herbs, or fruits – visit Botanical Interests. Their catalog consists of sustainably-made products manufactured here in the USA, along with a huge assortment of non-GMO and organic seeds. Up until recently, they were a family-owned business, and while they're still family-run, they've now been acquired by Epic Gardening, one of the largest gardening YouTube channels. This acquisition has only expanded their fantastic lineup of seeds and eco-friendly garden products.
Through their partnership with Epic Gardening, Botanical Interests now sells the immensely popular Birdies' raised garden beds: modular aluminum-zinc-coated steel structures that come in many different shapes, sizes, and colors. While we love the look of a good wood garden bed, there's something elegant and appealing about metal garden beds. Birdies' beds are made in Australia, but there isn't a similar USA-made alternative to Birdies' yet that we know of.
If you want to learn more about Birdies' raised beds, or raised bed gardening in general, I highly recommend visiting either the Epic Gardening YouTube channel or the Self Sufficient Me YouTube channel. These are two of our very favorite garden-centric channels, and both of them utilize Birdies' beds in their videos.
Our favorite part of Botanical Interests' site is their wide selection of affordably-priced seeds, but they have plenty of gardening supplies available as well. Botanical Interests prefers eco-friendly and organic gardening methods, so you won't find much in the way of pesticides or herbicides in their shop. We like that Botanic Interests carries a ton of flower varieties, too. They also have fantastic seed gift boxes for the aspiring gardener in your life – something we haven't seen at any other gardening store so far. Their botanical art products are also incredibly beautiful – more than worthy of being hung in any gardener's home.

---
DollarSeed
DollarSeed is a company that we promote without any partnership benefits whatsoever. DollarSeed is a small business based in New York that offers several different varieties of seeds for – you guessed it – just one dollar. While the varieties they carry are limited, if you're looking to start a brand-new vegetable or herb garden or refresh a few tried-and-true varieties, DollarSeed is the place to go first.
We love promoting a local small business whenever we can, and especially one with such an intriguing business model. We've heard nothing but good things about the company from our gardening friends.
DollarSeed's model involves purchasing seeds in bulk from vendors, then breaking them down and selling them in approachably-sized pouches for hobby farmers and gardeners. As such, if you run a commercial farm, they're probably not the vendor for you. However, if you just want to maintain a smaller homestead or farmstead, they provide an invaluable and inexpensive resource.
At Little Onion Farm, we don't need packets of 500 seeds for our garden; we need just enough to get plants established during the first and second year, and from then on, we save our own seeds. While there are plenty of other seed vendors on this list that offer newer and more exotic seeds, they just can't beat DollarSeed in quality and price for trusted heirloom varieties.
Our favorite offering from DollarSeed is actually their A Lot in the Box garden kit, which contains one of every single seed pack they have in stock when you order (that's 200-250 packets of seeds!) This is the ultimate way for a new, but ambitious, gardener to set up a fantastic operation for the first time.
---
If you've spent any time on our website before, you know that we at Little Onion Farm are huge fans of Omlet and their mobile chicken coops. However, recently, a similar company to Omlet has come onto the scene: Nestera.
Nestera offers coops that are very similar in form and function to Omlet's, but with a different aesthetic. Nestera's coops are made with 100% recycled plastic, and they come with an unbelievable 25-year warranty.
Nestera's chicken coop lineup is also incredibly interesting. Their main coops – the Ground coop, Raised coop, and Lodge coop – are very similar in size and footprint to Omlet's main coops. Similarly, the Lodge and Raised coops can work with or without an attached run. The main difference is that each coop model (except for the Wagon) comes in three different sizes, so you have a little more freedom in style and configuration. (They have a duck house, too!)
Nestera also has one more coop available, called the Wagon coop, which is designed for larger flocks. While it can't be ordered with an attached run, it's designed for a free-ranging setup anyway. It also comes with wheels for easy relocation.
We haven't tried Nestera's coops here at Little Onion Farm yet, but we're super excited to have more eco-friendly, functional, and attractive coops on the market! Nestera is a relatively new company (they launched in 2020), so their main downside is their lack of track record compared to Omlet. However, we wouldn't hesitate to support the company based on the glowing reviews and general hype surrounding their products.
---
Kitchen, Bath, and Laundry
One of the easiest ways to make your routine a little more Earth-friendly is by changing the stuff you use every day. Whether you choose to use reusable straws, natural cleaning products, or eco-friendly laundry detergent sheets, every small change you make adds up to a big difference.
Natural products offer a fantastic, sustainable alternative to harsh chemicals. Even though some chemicals have their place in our homes for sanitary reasons – using bleach as a disinfectant and cleaner, for example – natural alternatives offer a much lower-impact solution that's easy on both our bodies and the environment. Plus, reusable kitchen and bath products help us reduce single-use plastics and other bulk that finds its way into the trash.
At Little Onion Farm, we heartily support the act of crafting your own kitchen and bath products, such as soap, cosmetics, candles, décor, and really anything else you can make yourself. After all, self-sufficiency is one of our biggest goals. However, for everything else – and for when you don't have the time or desire to do all the work – the vendors in this list are a great fallback option.
---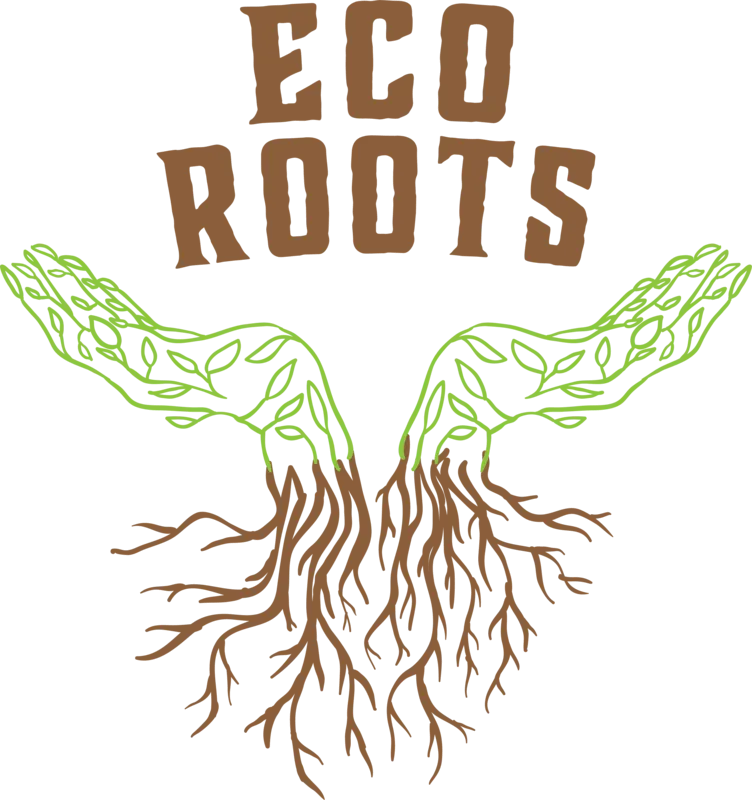 EcoRoots is similar to ZeroWasteStore, but with a slightly narrower product lineup and different aesthetics. They specialize in things like stainless steel straws, skincare products, and laundry supplies.
EcoRoots also has a staunch focus on plastic-free, compostable, low-waste, and sustainable packaging in all parts of their business, and they donate a small portion of their profits to worthy causes. Plus, they're based in the USA! We're fans of their huge line of soap, shampoo, and conditioner bars. They also carry some specialized skincare products, such as facial creams and moisturizers. Many of EcoRoots' body and skincare products are made right here in America, but others are manufactured overseas.
EcoRoots also constantly offers fantastic deals on product bundles! You can build these bundles yourself (so you don't end up with some of what you need and some stuff you don't) and save a chunk of change in the process.
---
We live in an era where humans can work from wherever they want, be that their own home, a vacation destination, or even on the road. On one hand, this means that less of us need lunchboxes to bring our lunches to work. On the other hand, this freedom has created a niche for eco-friendly, sustainable eating solutions that can go camping, to the beach, to the park, or anywhere else one chooses to go.
Bento boxes and other reusable lunchbox solutions have exploded in popularity since the pandemic began, and you can find them everywhere. Bento boxes are a great sustainable living solution since they help eliminate lots of single-use products. However, the ones from ECOlunchbox really stand out to us, both because of the sheer variety of configurations available and because of their stainless steel construction. An ECOlunchbox is sure to last you (and possibly your kids after you're done with it) a lifetime.
Little Onion Farm's favorite ECOlunchbox is the Three-In-One Giant bento, which you can see below. We also really like their Blue Water Bento for thermos-friendly foods such as soups and yogurts.
ECOlunchbox offers tons of outdoor adventure solutions, too, such as mess kits, picnic sets, reusable lunch bags, travel utensils, and more.
Unfortunately, ECOlunchbox's sustainable products are not made in the USA. They're still crafted responsibly, and the company does offset their own carbon emissions. Each lunchbox is fully plastic-free, and the stainless steel portions of their products are fully recyclable.
---
As their name suggests, Simply Straws specializes in environmentally-friendly, reusable straws in many shapes, sizes, colors, and materials. They carry other eco-friendly products, too, such as eating utensils, drinkable mason jar lids, carry sleeves for your straws, and the like.
We like how Simply Straws constantly offers sales and discounts on their products. When we first wrote this section on their product, Simply Straws was offering a 10 for $10 anniversary sale. Now, as of our last revision, they've launched a 60% off holiday sale. At Little Onion Farm, we love a company that makes it easy for their customers to snag a good deal.
According to Simply Straws' website, their glass straws are made by hand in California (they neither confirm nor deny whether the rest of their products are made there). Their straws are also fully recyclable and made with reusable, recycled, or fair-trade ingredients. Plus, they use compostable, post-consumer recycled materials in their labeling and shipping process and offset their electrical power usage through renewable sources.
While their product lineup is a bit narrow (what can you expect from a company called Simply Straws – of course they mostly sell straws), the eco-friendly products they do sell are superior: they're USA-based, of superior quality, and they leave the Earth better than it was before.
---
Repurpose specializes in plant-based, plastic-free alternatives to common kitchen and bath disposables, such as cups, toilet paper, paper towels, garbage bags, and more. All of their eco-friendly products are fully compostable and non-toxic, and they keep a close eye on their carbon footprint, too.
According to Repurpose, only 9% of plastics ever end up recycled. So while creating recyclable products is all well and good, it doesn't do anything for the environment if those plastics end up in a landfill. Not everyone goes out of their way to recycle plastic products, and even those who want to recycle their single-use plastics may not be able to, depending on the recycling centers available in their area.
Repurpose helps bypass that issue entirely by creating plastic-free compostable alternatives. You can purchase these items in whatever quantities you need directly from Repurpose's shop, or you can subscribe for monthly deliveries from Repurpose. They'll even calculate your positive impact on the environment every time you buy.

The main trade-off to Repurpose's products is, of course, their price. They cost significantly more than their plastic and paper counterparts. However, you don't have to blow your budget and replace all of your single-use products at once, either – a little bit a time, like we do here at Little Onion Farm, is also admirable.
---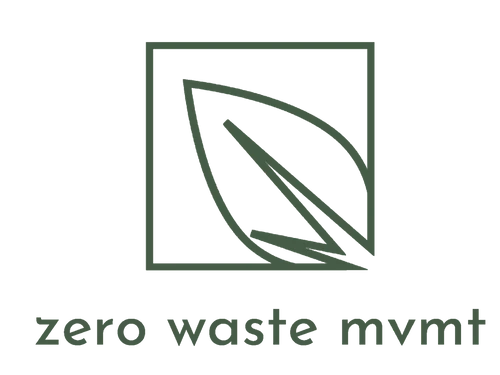 There are lots of green retailers that sell kitchen and bath products these days – in fact, there's more than one on this list alone. Zero Waste MVMT stands out because of how far they take the zero waste concept. It's not just their products, which include things like bamboo utensils and brushes, shampoo and conditioner bars, beeswax food wraps, and more. Every inch of their packaging is made with recycled paper and plastic-free, post-consumer materials, too – right down to the boxes they use to ship orders.
Zero Waste MVMT is a small business based in Winnipeg, Manitoba, Canada. The pure, clean, carefree aesthetic that they've managed to create with their brand is something we really like.
All of Zero Waste MVMT's consumable products – such as their shave bars, dish bars, and deodorants – are made in Canada, most of them by hand. A few of their non-consumable products are made in Canada as well, such as their Cedar Soap Trays. Some of Zero Waste MVMT's other products – notably, their bamboo items – are made overseas.
In the end, it's supporting small businesses like Zero Waste MVMT that allows us to create sustainable, reusable products locally in the future. Zero Waste MVMT's devotion to reducing their carbon footprint and utilizing post-consumer and recyclable products helps offset that downside.
---
What's better for the environment (and for you) than jugs of laundry detergent and dishwashing liquid? Plastic-free, fully-biodegradable alternatives, of course! Earth Breeze is our favorite source for eco-friendly laundry detergent and dishwashing products. Each item is made with the Earth in mind, from the cleaners themselves to the packages they come in. Plus, their sustainable laundry detergent sheets are low-profile and space-saving, making them perfect for RVs, tiny houses, and other tight living situations.
Using Earth Breeze's laundry detergent sheets couldn't be easier: just drop one into your washing machine before you start your cleaning cycle. The sheets are compatible with regular and high-efficiency machines alike, and they come in both scented and unscented varieties. We prefer the light, fresh smell of the scented sheets, but the unscented ones are great for those with sensitive skins and noses. While we haven't used Earth Breeze's dishwasher pellets yet, we'd assume that they're just as effective and easy to use as their laundry counterparts.
Earth Breeze is completely carbon neutral, cruelty-free, and vegan, and they donate 1% of their profits to worthy charities. Plus, you have the option to subscribe to their service and receive deliveries of your favorite Earth Breeze products at regular intervals (you get a little discount out of it, too). Their subscription program is risk-free and cancellable at any time.
If you do decide to place an order with Earth Breeze, make sure to look at their reusable "paper" towels and their adorable tote bags before you check out!
---
Babo Botanicals is a merchant specializing in skin-friendly green products, especially for babies and young children. Their offerings include sunscreen, diaper cream, moisturizer, shampoo, and more. Many of their products are fragrance free, vegan, and sensitive skin safe.
Even if you don't have children, Babo Botanicals has plenty of products for adults and their families. Their line of moisturizing oat products is particularly luxurious for dry skin, and their bubble bath set would make a fantastic gift (if you don't keep it for yourself!)
While Babo Botanicals keeps their product lineup limited, we think this is intentional – they know exactly what they want to sell, who they want to sell to, and how to do it sustainably, responsibly, and correctly.
---
A sustainable lifestyle doesn't start and end with producing your own food. Using all of the food you grow or buy is important, too. At Little Onion Farm, try as we might, we still end up with food that goes bad sometimes – it happens to the best of us. The food storage solutions from Food Huggers can make a serious difference in how much food goes bad in your house.
Food Huggers specializes in silicone "huggers" that protect the exposed parts of fruits, cheeses, cans, bowls, and more. They also sell reusable silicone and cloth bags for foods that can't be "hugged" as easily.
Silicone is a dishwasher-safe, near-infinitely-reusable alternative to plastic, so it's a welcome addition to any sustainable kitchen. While Food Huggers' products are unfortunately made overseas, the company does ship them in plastic-free packaging.
---
Final Thoughts
While it can sometimes feel difficult to find sustainable, locally-made products in the sea of options available today, in truth, there are hundreds of thousands of eco-friendly options out there just waiting for you. Hopefully, this list will provide you with a good launching pad as you embark on your own journey of self-sufficiency and green living.
If you have anything to share about the retailers on this list – good or bad – feel free to send us an email and tell us your story! After all, as much as we'd like to, Little Onion Farm can't purchase every item from each retailer in this guide – at least, not all at once! While we only recommend products and retailers in good conscience, please note that our experiences may still differ, and we encourage you to share all of them with us here at the Farm.
---
This article may contain affiliate links and advertisements. If you make an online purchase after clicking one of the links in this article, we may receive a commission. As an Amazon Associate, Little Onion Farm earns from qualifying purchases. All of the logos, photographs, banners, and links in this post are the intellectual property of their respective owners, and are used to promote our affiliate partnerships. Thank you for supporting Little Onion Farm and our partners!
Copyright © 2023 Little Onion Farm – All Rights Reserved.